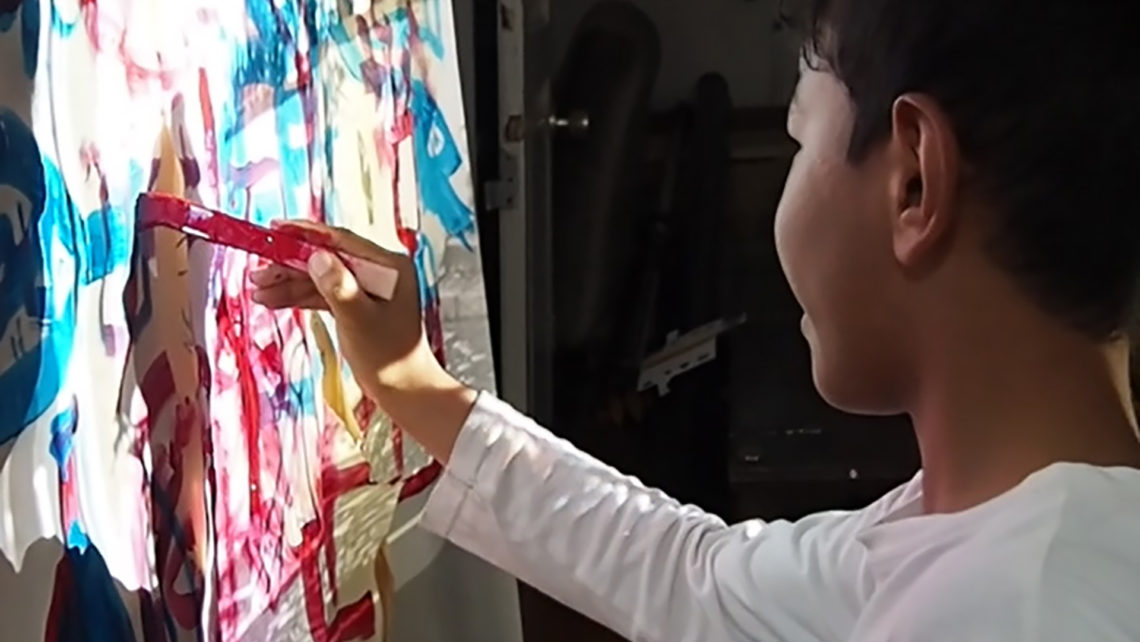 My home: let's create a fairy tale
"My Home: Let's Create a Fairy-Tale" Laboratory, was held in Renovate Mouraria Association, in Mouraria's neighborhood (Lisbon), from 10-13 April and 5 May, 2017, during five days. That Eastern vacation, sixteen children (between 6 and 12 years old), residents in the neighborhood, and from low-income families, participated in these artistic communitarian activities.  The group was multicultural, being the majority of them from Nepal and Portugal. The Lab was coordinated by Ana Moya, and it was designed and implemented with the collaboration of the plastic artist and designer of communication Leonor Brilha. Together they created an experimental methodological artistic participative approach specific for this case-study and this target group. Every afternoon, and during three hours, the kids explored the creativity of fairy-tale narratives, looking at the different elements that constitute the structure of the story – scenography, characters and narrative. In reality, the goal was to give them the space and artistic tools to be able to observe and express their imaginary worlds, how they relate to their close environments, and their sense of belonging to their daily urban spaces. We gave them the opportunity to experiment with the power of observation and body experimentation, trusting in their senses and their eyes, ears and hands, in order to represent and abstract their close environments using their imagination, memory and sensorial experiences. The techniques employed were drawing, painting, photography, sound recording, audio-visuals, shadow theater, custom design and performance.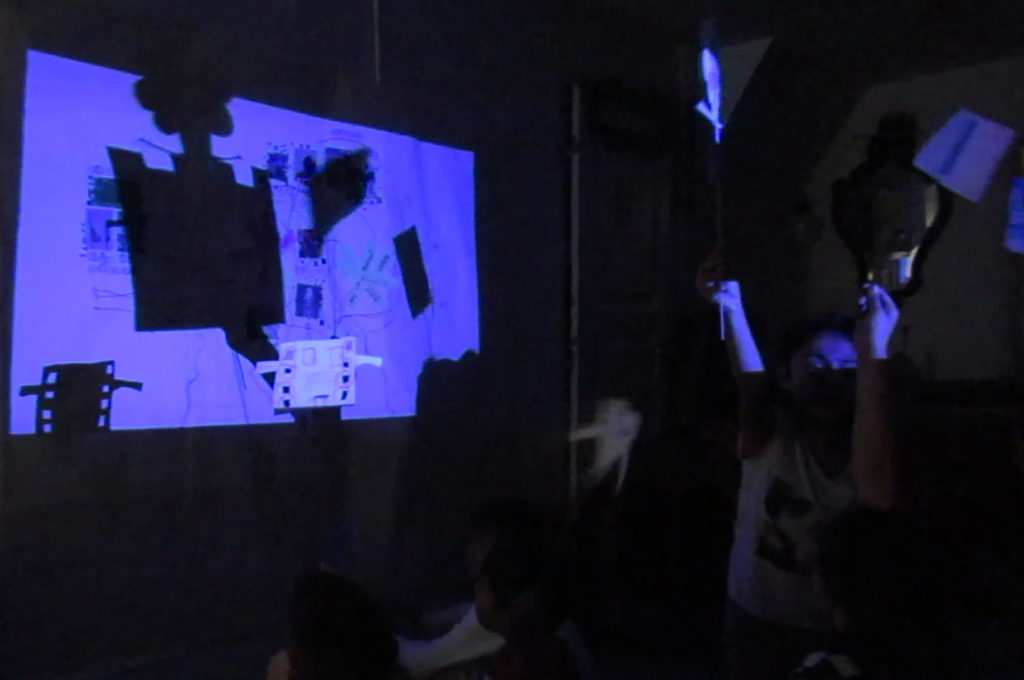 The aim of the Lab was to discover which are the kids' emotional and experiential daily urban spaces, and bring them to life through observation, listening, dialogue, interaction, action, movement, performance and representation. Our goal was to map a "cartography of their emotions". This cartography was an original and site-specific artistic material, result of the mapping of subjective universes that appear in their physical interaction with the close environment, recalled and interpreted through an artistic language. Their artistic work, as a result, expresses their inner imaginary world, with their emotions, wishes, intensities, rhythms, and memories.  The artistic methodological processes applied in this Lab involved the performativity of their bodies and their sensorial and emotional awareness. As a result it was possible to observe and study the kids' subjective engagement with their urban space, and their patterns of experience and perception. 
The work methodology of the laboratory was structured in three movements:  Space Recognition, Interpreting the Body in Space , and Communicating a Somatic Landscape.
RECOGNISE SPACE AND PLACE
INTERPRET THE BODY IN SPACE
COMMUNICATE EMOTIONS
RECOGNISE SPACE AND PLACE
Space Recognition is about training the perception, awareness and observation of sensorial experiences and personal emotions about the urban landscape. We worked the perception of the nature and identity of space with physical and virtual itineraries in the neighborhood (movements, urban explorations). We visited Martim Moniz square and we used video projection to experiment with other public spaces in Mouraria. We also paid attention to the subtle changes in the nature of space caused by movements, social flows, body interactions and spatio-temporal transformations.
Children, in this first movement, reaffirmed themselves in the following assertions: "I live in this part of the city and I share this place with all of you"; "This place is my home and I recognize some spaces of my Neighborhood as relevant for me"; "I identify myself with certain elements of my close environment and I feel attracted, fascinated by these particular spaces".
Through these itineraries (physical and virtual) in the neighbourhood, we asked the children to select those elements from the environment that caught their attention, and transform them into story characters and parts of the scenography. Therefore, they captured and registered elements of the urban space such as textures, sounds, images, impressions. We discovered that Martim Moniz, Rosa and Achada squares were the most popular places for them. Using a sound recorder, a photo camera and a pinhole box camera, the kids registered and identified ephemeral realities such as shadows, textures, sounds, social interactions, the movement and noise of the traffic, the water of the fountains; they also registered flora and fauna; elements related to the Portuguese historical identity such as art works, architectonic buildings and symbols; and they paid attention to buildings in general, urban furniture and urban art.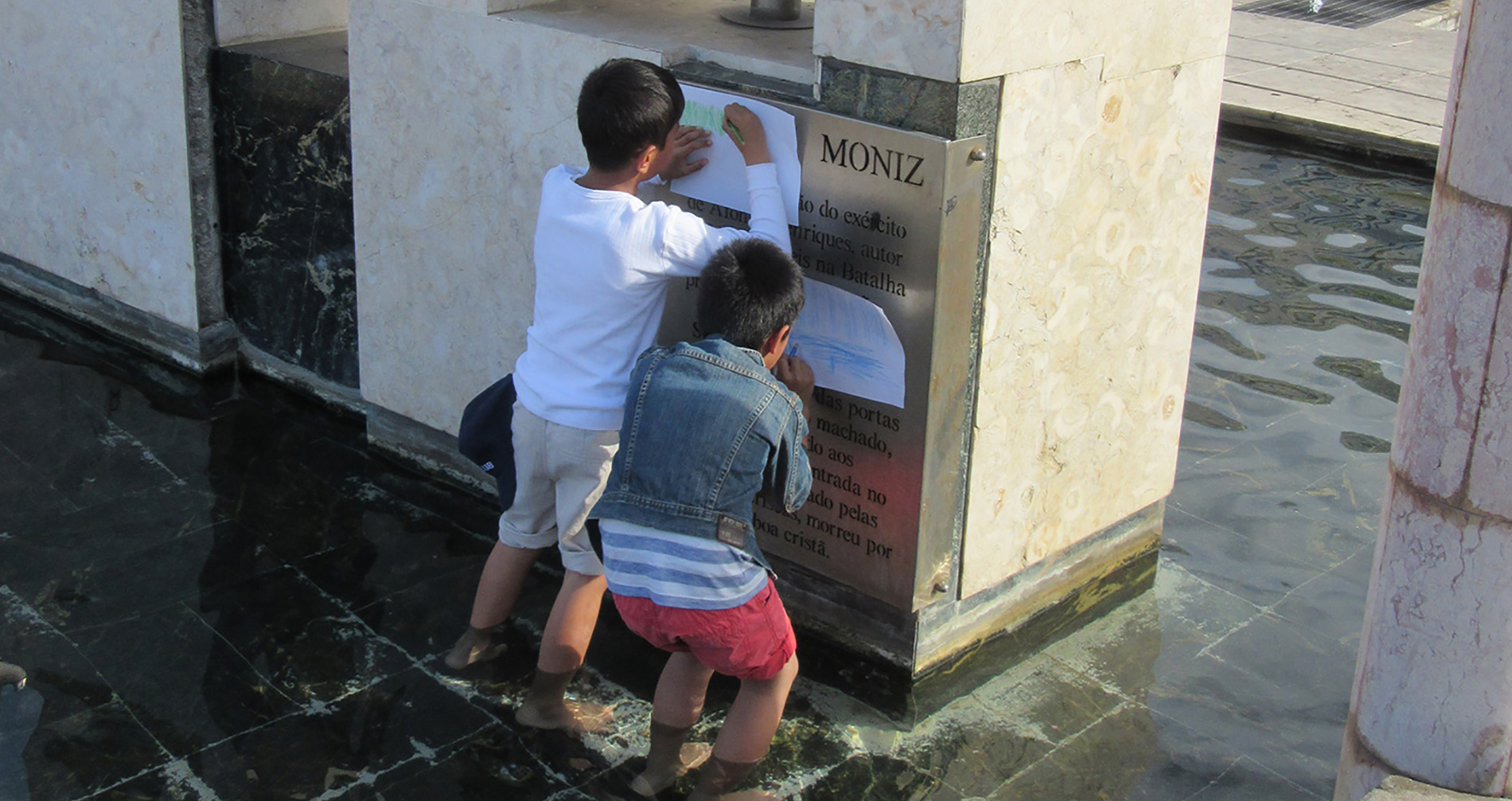 INTERPRET THE BODY IN SPACE
COMMUNICATE EMOTIONS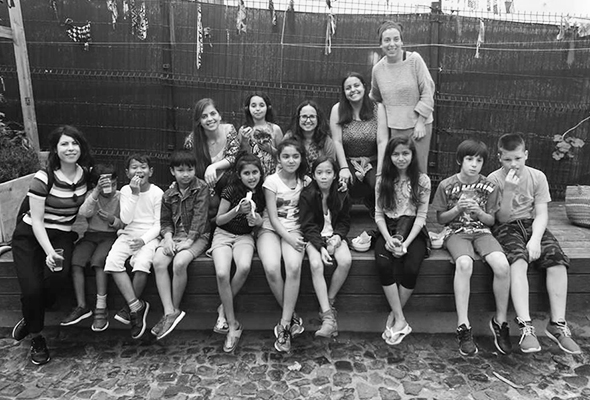 Aeesh (8, Nepal), Rojan (8, Nepal), Afonso (7, Portugal), Martim (11, Portugal), Prince (7, Nepal), Tiago (10, Portugal), Samana (10, Nepal), Angel (7, Nepal), Dipensi (11, Nepal), Maycon (12, Portugal), Rafael (11, Portugal), Bruna (7, Portugal), Manswi (11, Nepal), Karina (7, Nepal), Alex (12, Portugal), Kaliany (10, Nepal). Volunteers: Isabel Serodio, Rita Correia, Ana Margarida Brito, Inês Passos, Alex Gama. Logistics: Almudena Ferro, Priscila Barbosa (Renovar a Mouraria). Promotor: Filipa Bolotinha (Vice-director Renovar a Mouraria). 
support and collaboration
Renovar a Mouraria socio-cultural association (Lisbon) collaborated and promoted the participative artistic laboratory "My Home, let's create a fairy tale", coordinated by the Center of Art History and Artistic Research (CHAIA, U. Évora)