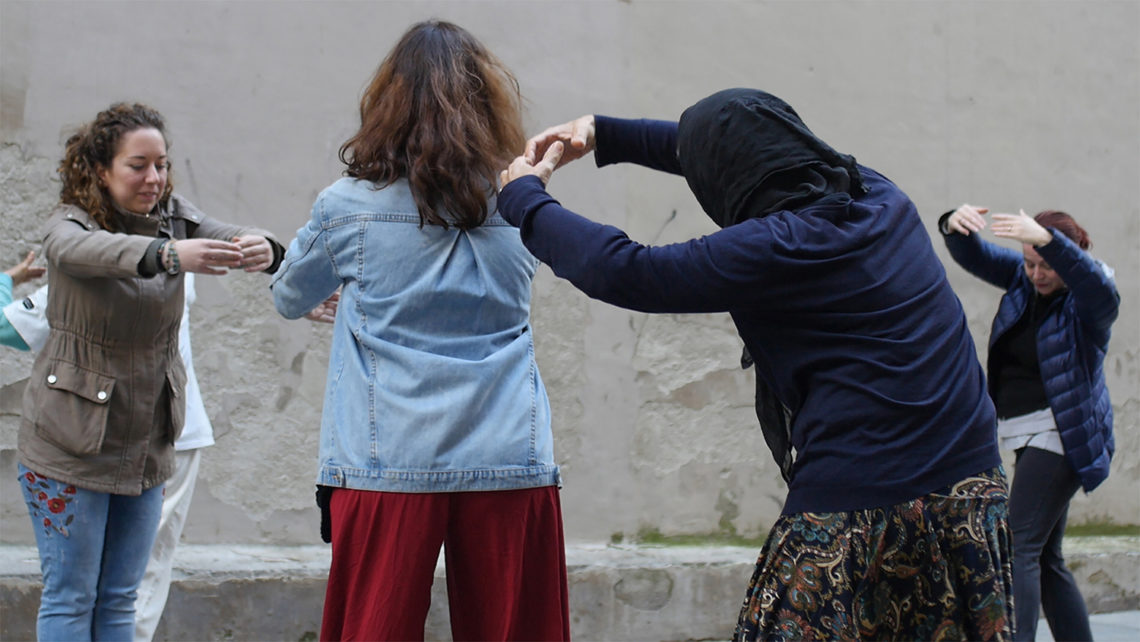 MOVEMENT AND EMOTIONAL GEOGRAPHIES IN RAVAL, BARCELONA
The Laboratory "Site, Dance and Body: Explorations of Movement and Emotional Geographies in Raval", took place from  9th to April 13th, 2018, and engaged 14 participants in morning and afternoon sessions of two and a half hours each. We engaged the participants in site-based movement experimentation in public urban spaces of Raval (Barcelona). We included introductory and warm up exercises in indoor facilities and outdoor exercises of site-dance exploration in public urban spaces. Working with mainly female intergenerational residents, we explored body-site relationships, associations and connections to urban spaces through movement research, and individual articulations to everyday lived places. We paid attention to the difference between what the mind expresses (memories, values and mental connections) and what the body feels (tempos, rhythms, flows and energies), reviewing both memories and mental responses and the systems and structures of the body in relation to the material nature of urban places. Through material engagement with particular places the participants were able to acknowledge their own body as the key mode of processing and responding to urban environments.  The Laboratory emerged from a transdisciplinary research collaboration between the researcher Ana Moya (CHAIA, U. Évora, Portugal),  invited researcher at Group of Anthropology and Artistic Practices (GRAPA), Anthropology Department, from the University of Barcelona (Spain), and Victoria Hunter, practitioner-researcher and Reader in site dance and choreography  (U. Chichester, United Kingdom). Part of the Laboratory took place in the indoor municipal facilities of Drassanes Civic Centre and Folch i Torres Centre, located in Raval.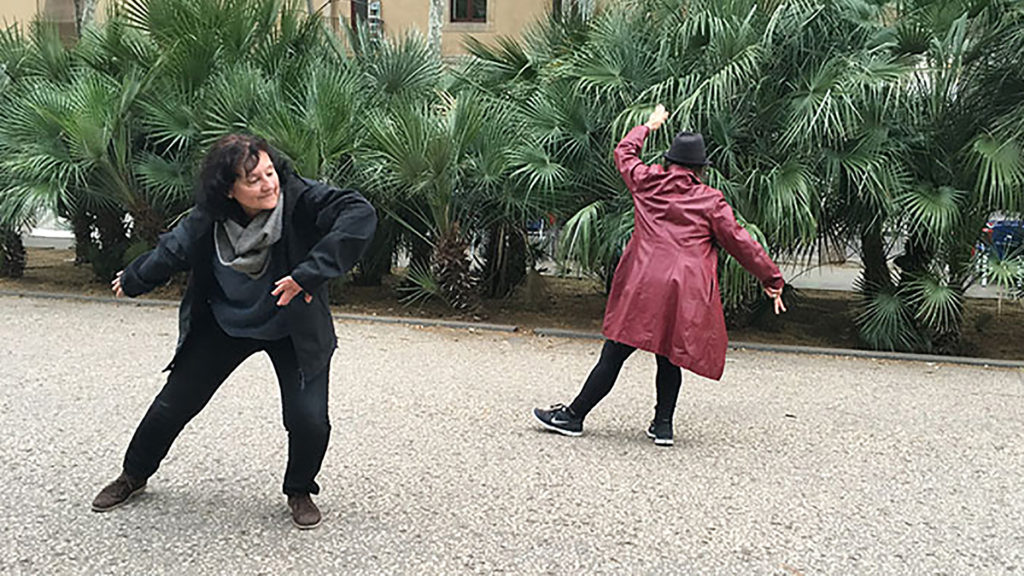 The participants explored affective processes of adaptation, integration, commitment, familiarity and belonging to space, using body movement as a common language. Throughout the Laboratory we worked with the emotions, the psychology of perception, and the intimate and collective imaginaries of daily, lived spatial experience. Participants explored how the articulation of their physical, sensorial and emotional experiences combined with their affective responses to site redefine their personal and collective construction of place and identity. The project fostered mental and sensorial connections to urban sites through movement exploration and produced a 're-mapping' of sites through which the participants situated themselves, strengthened existing links and forged new-found relationships and identities with space and place in Raval.
We worked in seven locations in Raval, related to important public spaces and referential architectonic and historical locations. We paid attention to the geometric dimensions of space, scale and formal configuration, built elements composition, key architectural features and buildings, iconic and relevant references in space, together with small scale details (textures, surfaces, colors and materials).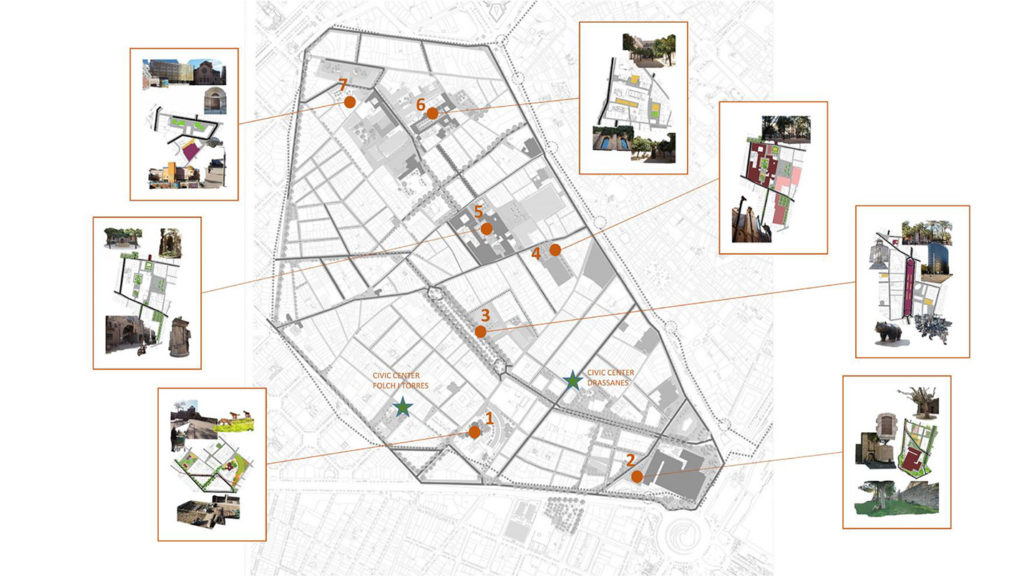 The work methodology of the Laboratory was structured in three movements:  The Affective Responses to space, the creative Performative expressions through movement practice, and the communication of a somatic landscape through Body-world relationships and dialogue.
AFFECTIVE RESPONSES
PERFORMATIVE EXPRESSIONS
BODY-WORLD RELATIONSHIPS
AFFECTIVE RESPONSES
We explored the participants' affective responses to space and place and mapped their sense of place-related identity emerging from their personal embodied experiences in Raval. We explored processes of urban space identity, as both an individual and collective construction arising from the participants' physical and emotional identification with the environment.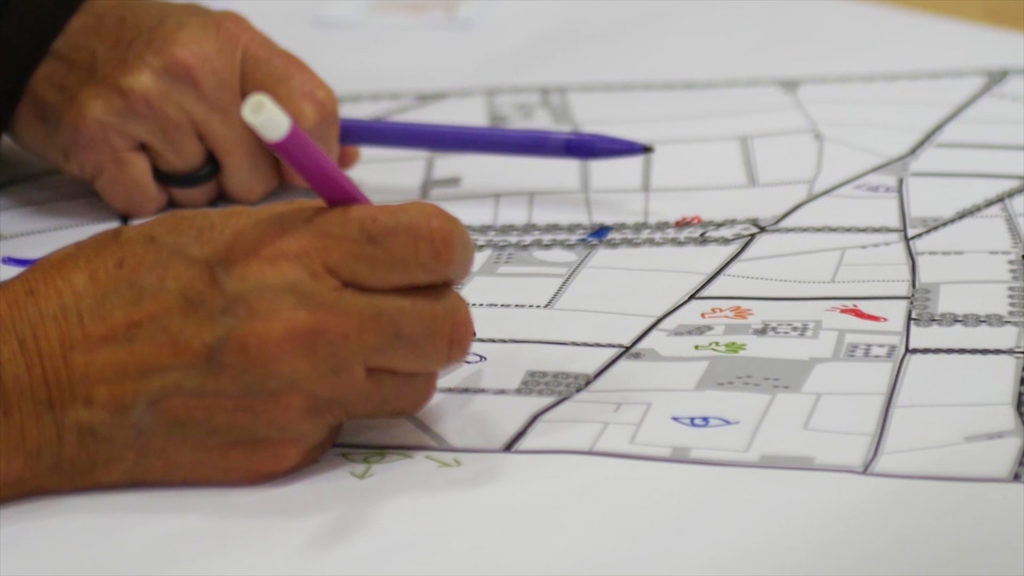 We worked with three types of memory: the memory of place; the personal memories of the participants; and the autonomous memory of their bodies. In this sense, the place talks as it contains stories, narratives from the past. It is the container of history. The mind experiences as the participants established a mental evocative connection to particular places.  There were certain cultural experiences associated with an urban place common to all the group. Such experiences belonged to their collective memory. Arising from these perspectives was the conception that the body 'thinks' as a result of embodied memories that resonate in space. 
Participants created cartographies to identify the neighborhood they remember through the senses. We asked them to map Raval as a sensorial body, and relate those public spaces they recognize to sensorial memories of taste, touch, smell, vision, and hearing. We also explored Raval's urban spaces as a human body comprising different body parts. We drew this body as an urban landscape where public spaces are transformed into eyes, nose, mouth, heart, dorsal spine, lungs or watery system. We also worked with plastic arts, drawing and representing past body experiences of space and place. These memories and experiences were later emulated through body movements in exploratory indoor exercises.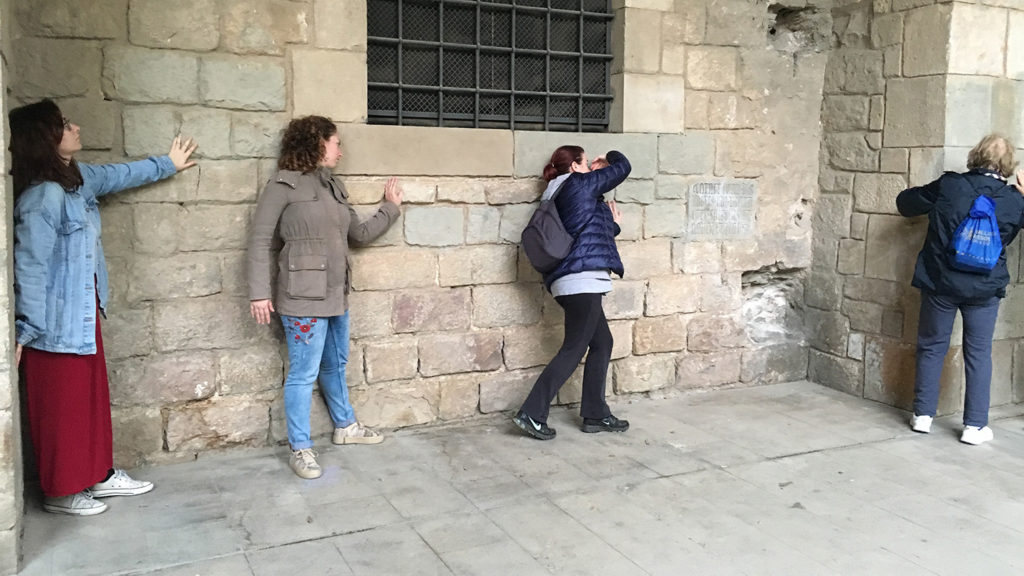 PERFORMATIVE EXPRESSIONS
BODY-WORLD RELATIONSHIPS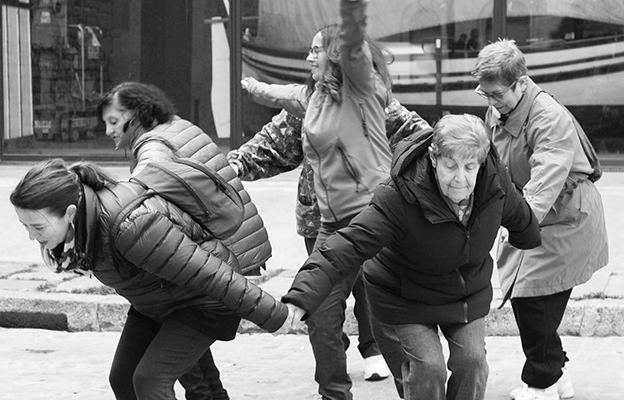 Sofía (23, Galicia, Spain), Helena (24, Vasc Country, Spain), Maria (25, Catalonia, Spain), Ana Luisa (34, Portugal), Jordi (43, Catalonia, Spain), Brigitte (50, Catalonia, Spain), Sheri (50, England), Francesca (63, Madrid, Spain), Assumpta (66, Catalonia, Spain), Amparo (75, Castile La Mancha, Spain), Ana María (76, Castile and León, Spain), Azucena (79, Valencia, Spain), Emilia (81, Cantabria, Spain), Emérita (82, Galicia, Spain). Camera, Audiovisual work:  Florence Girardeau and Ana Moya (audiovisuals, camera, video editing). Special thans to: Stefano d'Argenio (INCA Catalunya), Felipe Ibarra (Ateneu del Raval), Mireia Aranda (Tot Raval), Ana Luisa Sousa (Opá, Associació Lusófona), Sheri Masala (Centro Bollywood Masala, BCN).
International research cooperation was established with the Research Group on Anthropology and Artistic Practices (GRAPA, U Barcelona, ES) and the Site Dance and Choreography Group (U Chichester, UK). This research counted with the support and supervision  Roger Sansi, Professor at the Anthropology Department, University of Barcelona (ES). 
INCA Catalunya;  Ateneu del Raval; Tot Raval; Opá, Associació Lusófona; Apec, Associação de Pesquisadores e Estudantes Brasileiros na Catalunha; Centro Bollywood Masala, BCN; La Poderosa, espai per a la dansa i els seus contaminants.